Sunday, August 16, 2009
Quotable Sunday
Labels: Quotable Sunday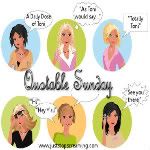 Quotable Sunday is brought to you by Toni, from A Daily Dose of Toni - why don't you join us? Here are the basic and easy-to-follow rules...come on and join in, it's fun! ;)
The rules (for newbies)
~Go to your blog and post one or more of your favorite quotes.
~Go to Toni's and sign mister linky with the link to your post and then go visit the other participants and leave some comment love.
~Spread the word of course...we want lots of Quotes to read :)
Since this weekend marks the 40Th anniversary of Woodstock, I thought that I would go back in time and see if the lyrics from that era would still be relevant today.
For Quotable Sunday, I decided to use a few lines from Graham Nash's song,
Teach your Children Well.
Can you hear/ and do you care /and can you see we
Back in the 70's my parents did the best that they could to listen to me.
They cared very much but didn't know how to take the time and really listen to
what I wasn't saying.
/ Must be free to teach the children /
To believe and Make a world that / We can live in
Today we are more liberated as a society and we know more about asking our
children the right questions. We also encourage them to believe in themselves
We teach them to believe that one person can make a difference.
I think this song wants each generation to understand what each other is all
about. By teaching each other, we will bring about change for the good !
Click on
Favorite
below to hear the whole song.
Favorite